Congratulations to our 2022 Best of Small Business Awardees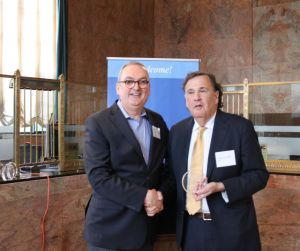 Four generations of this recipient's family have been feeding the City of Cambridge for the past 100 years. From neighborhood residents to Mayors and City Managers, to Government officials, and throngs of hungry workers, the S&S has seen it all and been a staple in our community. 
Aimee Baum and her brother Gary Mitchell continue to run one of Cambridge's most beloved family owned and operated restaurants. Whenever asked, they are the first to step up and help. Over the past two years, they have prepared countless meals for the City's un-housed population and our front-line workers. Aimee and Gary continue the tradition of running the business their great-grandmother started, and the community is profoundly grateful for their hard work and dedication.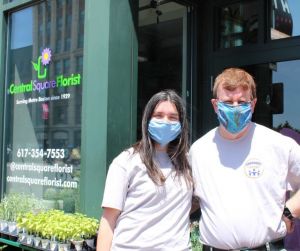 Jackie and David Levine continue to run a family-owned business that has been a fixture in Central Square since 1929. Four generations of the Levine family have owned and operated Central Square Florist, brightening the lives of their customers and those who just pass by the shop. The past 2 years have been difficult, but this family-owned business has thrived and will continue to be a force in Central Square and beyond. Cambridge is truly fortunate to have the beauty and artistry of Central Square Florist in our community.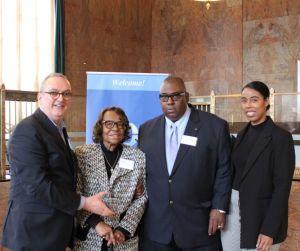 Artis Spears has owned and operated the A.J. Spears Funeral Home on Western Avenue since 1964, when she and her late husband Andrew founded the business. Artis is a valued Cantabridigian – someone who has provided personalized care, comfort, and support to countless families when they need it most. She is a true pillar in the community; her dignity, style, and grace are an example to us all. In addition to operating her business, Artis served for many years as an Election Commissioner for the City of Cambridge. The business continues to be family owned and operated by Artis, along with her son, Anthony, and daughter, Andrea Spears Jackson.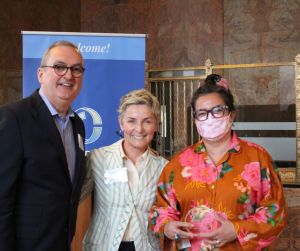 The best small business owners look beyond the walls of their businesses and find ways to lift the community and the small businesses around them. Virginia Johnson of Gather Here Stitch Lounge in Inman Square is a fitting example of a local business owner who understands the impact this can have. Gather Here serves countless makers and artists throughout the area and has built a loyal following in the craft and maker community. Virginia has given her time over many years, curating the Makers Market at the East Cambridge Business Association's annual Inman Eats & Crafts, and at BioMeds Winter Market at the Canal. 
This year, Virginia has been the vision behind the Inman Incubator, a partnership with the ECBA and Commonwealth Alternative Care, which is providing a brick-and-mortar space to local small businesses to help them understand what it takes to open a small retail space of their own. The Inman Incubator will support a new small business owner each month, with a focus on women and minority-owned entrepreneurs.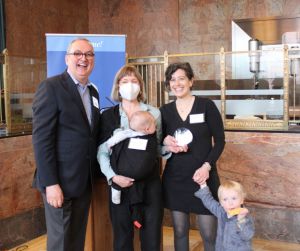 Founded in 2008, Big Dipper Hospitality Group has created some of Cambridge's most beloved dining spots, including Mamaleh's, State Park, and Vincent's. They are a family-run, independent restaurant group with close to 100 employees. Big Dipper takes pride in creating a healthy work environment and in giving employees opportunities for advancement, including offering ESL classes to their employees. They have also worked determinedly for fighting for a fair minimum wage and to change the model of how restaurants pay their employees. 
The pandemic proved challenging for all small businesses, but it was especially devastating for restaurants. Instead of just waiting it out, the Big Dipper group showed creativity and tenacity in adapting their business model. Offering customers suburban pick-up sites throughout greater Boston, they also reimagined their fine-dining restaurant Café du Pay into Vincent's grocery where, instead of dining-in, customers could find a range of groceries to bring home. While Big Dipper suffered like all restaurants, they have reopened all their restaurants and opened new locations in Brookline and downtown at the new Food Hall.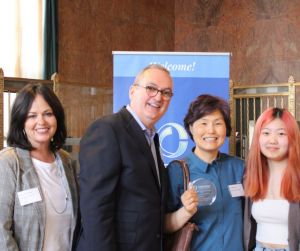 Golden Touch Cleaners, located at 987 Mass Ave, is a family-run business operated by husband-and-wife Hyunjoo and Changkyu Heo. This couple, who immigrated to the United States from Korea, have worked tirelessly 6 days a week for years to build their business and to provide for their 2 daughters. Eventually, they successfully opened a second store on Rindge Avenue in North Cambridge. Together, they faced the everyday highs and lows of operating a small business. They are widely known for providing exceptional customer service - making all customers feel valued and appreciated. 
Everything changed in March of 2020. Dry cleaners across the board were blindsided during the pandemic. Employees left their offices behind to work from home, social functions canceled, and suddenly people choose to wear sweatpants instead of dressing up. All this had a dire financial impact on Golden Touch and all cleaners. Despite the difficulty of the past 2 years, this husband-and-wife team are committed to reenergizing their business with the help and support of our community.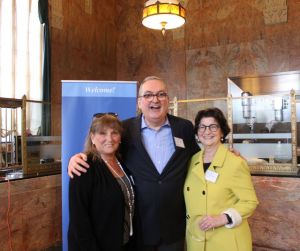 Susan Lapierre Community Service Award
Susan spent her entire career in Cambridge, first at East Cambridge Savings Bank and then at Cambridge Savings Bank. All the while, she demonstrated true dedication to the Cambridge community – a community she grew up in.  
As a business representative, Susan embodied an unmatched commitment to the community. She served on nonprofit boards, assisted with fundraising committees, led various business associations, and contributed her time and talent to the community through the Rotary Club of Cambridge. 
We are extremely grateful for all Susan did over the years for the business community. In that spirit of gratitude, to honor and recognize her work and commitment to the community, the Chamber is happy to create the Chamber's Susan Lapierre Community Service award.  
Denise Jillson has been the Executive Director of the Harvard Square Business Association since 2006 and has been one of the City's most influential voices in support of our small business community. Denise's work in building the "Harvard Square brand" through countless arts and music festivals, and her staunch advocacy for small local businesses and business owners have helped make Harvard Square a premier destination for visitors from all over the world. Her support of programs that lift and empower young women, such as the YWCA's GOLD Program, has given her a stature in our community that few can match. Denise has spent the past two decades in the trenches, working to improve our community and to ensure Harvard Square remains a vibrant, diverse, dynamic neighborhood. In the process of working hard and treating everyone she encounters with respect, Denise has won admirers from all walks of life. The hallmark of Denise's leadership is her willingness to go above and beyond her responsibilities. She is unquestionably a leader in our community. 
Denise shares the commitment to the community that Susan Lapierre demonstrated in her own career. For her advocacy and tireless efforts on behalf of Cambridge's small businesses, it was with immense pleasure that the Chamber presented its first annual Susan Lapierre Community Service Award to Denise Jillson.