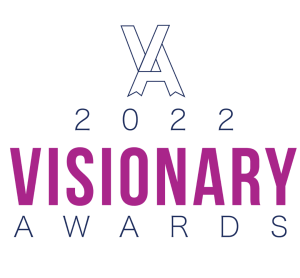 Celebrating the Spirit of Discovery and Innovation that makes Cambridge unlike anywhere else
Our annual Gala recognizes innovators from the business, institutional, and non-profit communities who are truly affecting change in Cambridge and beyond. This special evening is an opportunity for the Cambridge business community to celebrate these change agents and their extraordinary impact on improving the lives of others.
2022 Visionary Awards Recipients
The Amgen Operations East Coast Innovation Center for making significant improvements to the environmental sustainability of the manufacturing process of sotorasib, a small molecule that is the active ingredient in medications used in treatments for non-small cell lung cancer.
Cambridge Community Center for their innovative and resilient response to the growing needs of the community.  When the pandemic shut everything down, CCC nimbly pivoted and reached out to anyone who had come to them for help since 2011, incorporating lessons learned along the way. As a result, their food pantry now serves over 1000 families a week.
The Engine, built by MIT, for providing the breeding ground where scientists and engineers can have a competitive advantage in "Tough Tech," by gaining access to high-cost-of-capital equipment and space that would traditionally pose a high barrier to entry. Tough Tech is a game-changing technology that is designed to tackle some of the biggest global challenges of our time, ranging from climate change to human health and sustainability.
Pfizer Kendall Square Paxlovid Discovery and Development Team for their courageous work in designing and delivering Paxlovid, a lifesaving treatment for severe CoV2 infection and the first oral anti-COVID agent to receive Emergency Use Authorization in the United States.
Pro EMS for their unwavering support and partnership with the City of Cambridge during the height of the Covid response. Under Bill Mergendahl's leadership, Professional Ambulance staffed testing sites and provided crucial life-saving PPP to senior living facilities that were facing catastrophic loss of life.
The Sanofi Research and Development Teams for successfully securing FDA approval for first-ever therapies to treat two rare conditions: Xenpozyme for the treatment of non-central nervous system manifestations of acid sphingomyelinase deficiency (ASD), and Dupixent for the treatment of adult patients with prurigo nodularis, a debilitating skin disease.
Senné for demonstrating true community spirit while providing visionary management, brokerage, and housing services to thousands of customers in Cambridge and beyond. In response to fires or other community disasters, Senné has consistently stepped up to support City of Cambridge Emergency Services in finding immediate housing for displaced residents.
Takeda's Teresa Bitetti, President of the Global Oncology Business Unit, for applying her dynamic and inspiring leadership in transforming the unit's partnership with Takeda's R&D organization. The result of her innovative, collaborative approach has been that Takeda's future clinical trials put the best medicines possible on the market for patients around the globe.
Thank you to our Sponsors