Welcome to the first Chamber

Conversation

series, a

quarterly feature that

invites

the Chamber community to get to know

fellow members

and

to

discover the

paths that led them to

our

Cambridge b

usiness community.

 
"My mother sat me down to rip the seam."
You mentioned that you learned your craft as a tailor from your family. Can you describe that?
My parents were part of the Great Migration of African Americans from the rural South to northern cities. My mother graduated from Xavier University in New Orleans, class of 1932. From there, my parents moved to Chicago.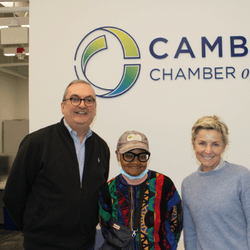 After 14 years of marriage and 4 kids, my parents divorced and my father moved back to Jackson, Mississippi. My mother then moved us into Altgeld Gardens in Chicago, where we lived 5 to a room. She had a sewing machine, and she sat me down to rip a seam - this was my first experience with sewing, and with work. I earned my first $2.00. From that point, I understood that to work is to get paid. 
Eventually, my mother moved us to Hyde Park, near the University of Chicago, and started a business out of our home. We came up with the name Traveling Tailor there. Mother designed and made clothes for children and adults – every seam was sewn by hand and custom made. We children and my mother worked together on the garments. 
"I disrupted the system but had no idea I was breaking the mold."
What brought you to Cambridge?
My dream was to move to Paris, and my mother supported me in this. In Paris, I set up an alteration and custom design service in the 16th arrondissement. My clients came to me. To stay in Paris, I was required to enroll as a student and to check in with the police regularly. I applied for working papers and established my business - and my life. On the weekends, I went with friends to music clubs. Before going into a club, we stood in front of a peephole so the club staff could see us. People in Paris were welcoming to African Americans.  
My sister was married and living in Boston with 2 children. I left Paris and came to Boston to help with her family. In Boston, I attended the School of Fashion Design on Newbury Street and got a job a Filene's. Before long, with support from designer Alfred Fiandaca, I became the first woman to work in menswear at Filene's.  
By 2008, I owned and ran a boutique called Coleman & Mason, in Washington Square, Brookline, but my business did not survive the financial crisis. At that time, there was no help for small businesses. I lost the store and my apartment. To try to recover, I moved to the Y in Cambridge and enrolled in business classes at Cambridge College. I was not sure I could manage in school -- do I have the mind to do this at my age? -- but I finished my undergraduate degree at Cambridge College and enrolled in an MBA program at Suffolk University's Sawyer Business School. 
Attending classes and doing my schoolwork from the Y during the pandemic was challenging. Cambridge libraries were closed and wifi access was unreliable. Many times, I worked in Harvard libraries. I earned my MBA in December 2021. 
The Traveling Tailor is on the move. What's Next?
I decided I needed to leave when I recognized the challenges I have faced – and have overcome. I knew I needed to go back to Chicago. On May 9, I start as an on-site tailor at Ralph Lauren on Michigan Ave, Chicago. Once I'm settled in Chicago I'll look back and begin to piece together my story. I'll work on my memoirs and will tell my story.